Panui ki te IwI- Conservation week 14th-22nd Sept 2019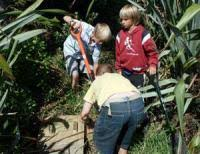 Help us celebrate 50 years of local people caring for nature
WE NEED NATURE, NATURE NEEDS US
Conservation week 14th - 22nd September 2019
Doc are

organising the 50th Anniversary of conservation week
This year is the 50th anniversary of conservation week in New Zealand and the Department of conservation is co-ordinating a week of events to celebrate 50 years of community efforts to care for nature
more then 50 community groups and organisations are regularly doing this work across Wairarapa and Tararua.
We want to work collaboratively with like-minded groups and businesses to run events that:
∗Acknowledge the fantastic efforts of our community to care for our nature
∗Inspire others to do the same
There are a number of ways - big or small - to be part of the celebration so we invite you to match your interests and capacity to any or all of the following:
∗ Reply to this email stating that your group / organisation supports Conservation week 2019
∗ Put up Conservation week poster in your office/business
∗ Donate resources (expertise, goods, services) unique to your group/organisation
∗ Donate time to supporting / attending an event
∗ Collaborate with others on an event (we will outline current events shortly)
∗ Host your own CW2019 event (come up with an idea and let us Know)
What next:
Choose one or more options from the list above and email us with how you would like to be a part of this neat community initiative.
We will organise a series of meetings in the upcoming weeks to plan, co-ordinate and manage events and activities for CW2019
Please email any event ideas or come along to a meeting if you are interested
All events and activities will be promoted extensively through local & social media
Feel free to contact Aiden Broughton for any further clarification Cellphone - 027 2678481 Email
We look Forward to working with you in which ever way you can contribute
"Nā tō rourou, nā taku rourou ka ora ai te iwi"
"with your food basket and my food basket the people will thrive"
For More INFO