Heretaunga Marae Waakainga Launch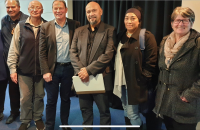 The Marae Wākāinga website is a virtual space for whānau to make and maintain connection with their Heretaunga Marae and Kahungunu connections and has now been officially launched.
"We are using website connectivity, wherever whanau may be in the region, country, world to make a connection and enable them to communicate with their marae, hapu and Iwi in Heretaunga. We want each and every descendent of Ngati Kahungunu to know their cultural identit

y and heritage, feel included and able to participate and contribute back to their marae and hapu development as well as promote best behaviour through social media – a new cyber tikanga toward best practice perhaps. These are all things we are willing and hoping to explore.
This project has been a labour of love from Marae committees and reservation trustees, many whanau who whakapapa to the 14 marae of Heretaunga, 2 land trusts., Te Taiwhenua o Heretaunga Board, Te Runanganui o Heretaunga , Te Puni Kokiri and Ngati Kahungunu Iwi Inc.
We believe in the survival of Te Reo Maori, our customs and rituals, stories, tikanga and kawa has never been so important as it is now. A large diaspora of Maori living away from their traditional tūrangawaewae, want to connect back or communicate to their marae and vice versa and we want to help make this possible.
This essentially is a new approach with an old message, we are attempting to reset behaviour and attitude in the use of social media.
Success for us will look like whakawhanaungatanga; More Maori having connected back with their marae hapu and feel included. That more whanau are speaking and writing in Te Reo, as a consequence of coming online to this site, are able to recite their pepeha place names maunga awa ngahere rongoā maori That mana enhancing behaviour is maintained and demonstrated. And lastly that wananga is the norm and livestreamed. "
- Marei Apatu, Te Taiwhenua o Heretaunga