Craggy Range Track Remediation update July 2019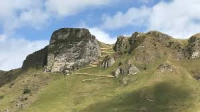 Craggy Range Track Remediation Update
July 2019
Mihi
Background & timeline to date
A consent for the Craggy Range Track was issued by the Hastings DC back in August 2017 with the track works programme commencing later toward the end of 2017 and quickly caused hurt for mana whenua who complained bitterly to both the Hastings DC and the track owner, Craggy Range. A subsequent meeting betwen Craggy Range and mana whenua brought demands track for work to stop and for it be fully remediated. Track work stopped.
In early 2018 the Hastings DC admitted mana whenua were not informed or consulted and publicly apologised for the incorrect processing of the resource consent, and remediation discussion on their side began. Craggy track owners wanted remediation to be subject to further optional tracks in the immediate vicinity.
A Hui a Iwi was called in June 2018 at Waimarama marae with the hui recommendation being restore and fully remediate the Craggy Range track. That month the Hastings DC commissioned Te Taiwhenua o Heretaunga, Te Manaaki Taiao to provide a cultural impact assessment with findings and recommendations.
The finished report titled ' Towards an understanding of the Māori (cultural) wellbeing and survival aspirations that ngā hapū o Heretaunga have for Te Mata, Te Matā, Te Mata o Rongokako, Te Karanemanema o Te Mata o Rongokako' was presented at Hui a Hapū and Hui a Iwi and the report's 42 recommendations were supported.
In December 2018 The Hastings DC approved the total remediation for the Craggy Range Track and began the consent process to do that, which involved public notification and submissions. In January 2019 a Hui a Iwi was called with unanimous support from mana whenua for the resource consent to remediate the track to proceed.
The Commissioner Special Hearing for the resource consent application was held over 11th and 12th June 2019 to hear expert evidence and submitters for and against the application. The Hearing process concluded and we now await the Commissioner's report. It is expected that approval to remediate the Craggy Range track, with conditions, will be out shortly.
Next & vital stage
1.Archaeological Authority Application
Archaeological authority from Heritage New Zealand is required (Heritage NZ Pouhere Taonga Act 2014) so that disturbance of archaeological sites or artefacts during remediation complies with relevant legislation. The requirements for Heritage New Zealand authority is pursuant to section 44 – the right to modify or destroy archaeological sites – the purpose being to protect NZ's historic heritage and archaeological sites/areas.
Specific site management in the event of cultural, historical or archaeological significance being uncovered (including the discovery of artefacts, taonga or koiwi) and protocols in sensitive areas with potential archaeological discovery. The intent is to mitigate risk.
Archaeological Assessment of Effects - AEE
The AEE is well constructed, in part based on a previous assessment (Te Mata Track-Way Project AAE, Carter 2019). Additional information has been added, greater consideration given to tangata whenua concerns overall and is reflective of the cultural views in Te Kanapanapa, a Te Mata Park report compiled by Te Manaaki Taiao (2018).
The scope is the immediate area affected by the remediation as required under the legislation. This restricts what can be considered by the consenting authority and/or Heritage New Zealand, so when considering scale and degree of effects, broader contextual issues pertaining to Te Mata Peak are not given undue weight. The usual practice under the Pouhere Taonga Act, 2014 is to consider risk based on physical and historical evidence of archaeological matters only.
The AEE contains relevant planning instruments and legislative provisions. The Pouhere Taonga Act provides protection for archaeological sites whether recorded or not, but can provide a pathway to destroy or modify archaeological sites where the archaeological state or likelihood is either unknown or uncertain. For the Craggy Range track, the land has been modified for predominately pastoral use for the last 140 years. The AEE also summarises research2 results, including site visits where Amber Aranui and Rose Mohi were present, plus a literature review of previous research and reports.
Track remediation consists mainly of infilling the track with material previously removed. There will be some additional earthworks in some places not previously disturbed during track construction, but is expected to be minimal. These works are to provide stability, contour and drainage. It is these 'new' areas that could cause disturbance of cultural artefacts/taonga and the degree of risk is difficult to quantify. In the AEE it is assessed as minimal to low. Where there is potential for pits/middens adjacent to already registered sites of cultural significance, risk is classed low to moderate.
If you have any query or question related to the process too date please contact
Marei Apatu
Te Kaihautu
Email
Te Taiwhenua o Heretaunga will also be holding a Hui a Iwi on Date / Time tbc
To Read more of Te Mata Cultural impact report